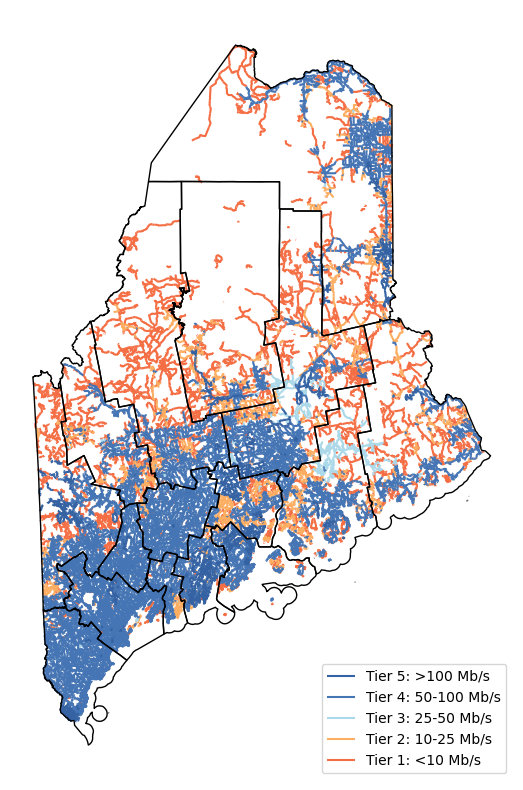 Internet speed varies across Maine.
With rare exceptions, the internet that reaches your house must travel through a series of connections along existing roadways. The speed of the connection depends on a variety of factors, including the age of the infrastructure and the distance your signal must travel. The map on the right shows the differing levels of internet speed across Maine.
In general, the blue areas indicate fast enough internet speed to conceivably work or study from home, whereas the red areas represent parts of the state that may not have sufficient connection to access the same resources and opportunities that a faster internet connection could facilitate.
What can we do about it?
The MCA is focused on three strategic areas:
Projects: Optimize broadband deployment
Places: Reach the last mile
People: Advance digital equity for all
To be effective in addressing the State's connectivity needs there needs to be continuous interaction between the Projects and mechanisms that enable impact; Place-based investments that enable last mile connectivity through a clear and constant process, and an ongoing focus on how funding, process, and priorities link to and leverage the People in most need.
Learn about disparities in internet access using our interactive mapping tool
The interactive map below illustrates levels of internet connectivity across Maine counties. Select a county and tier of internet access to compare service in your local community vs. elsewhere in the state.
What do the tiers mean?
Tier 5 shows areas with download and upload speeds in excess of 100 Mbps. These areas are well-served by the current network.
Tiers 3 and 4 indicate areas with download speeds ranging from 25-100 Megabytes per second (Mbps). For smaller households, this speed may be sufficient for many casual needs like gaming or streaming entertainment; larger households may struggle with bandwidth for telecommuting or remote learning needs.
Tiers 1 and 2 indicate areas with little to no internet access. Even where there is service, users may have trouble video conferencing or streaming high-definition video.
To see examples of recommended access speeds based on internet usage and size of household, visit the FCC website here.
Have questions about internet access in your area? You can reach the Maine Connectivity Authority here.